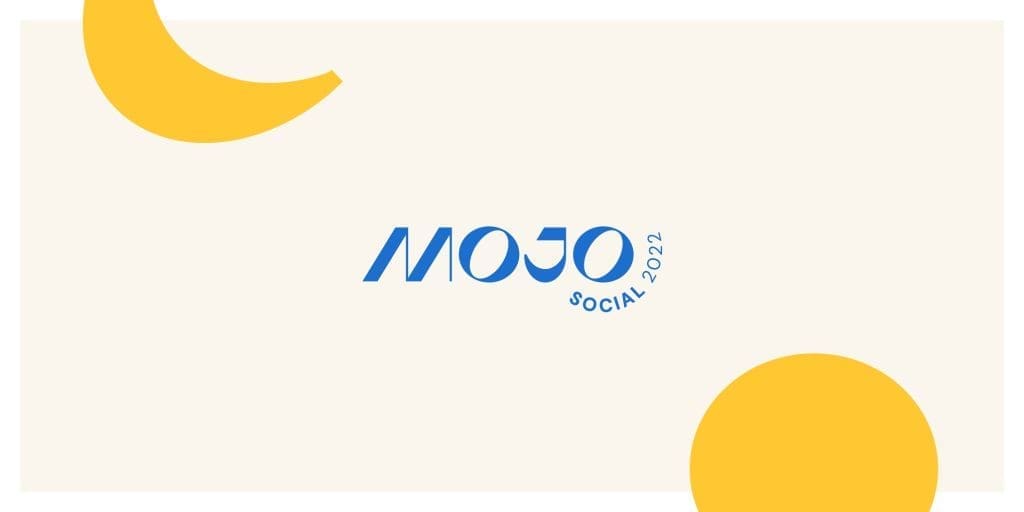 Introduction
MOJO Social: our pro bono fund to support positive impact projects
With the creation of its Pro Bono Fund MOJO Social, MOJO Agency commits to donate 3% of its turnover to projects that place social and/or environmental impact at the heart of their business model and that do not have the financial or human resources to carry out their mission. 2022 inaugurated the launch of the first project funded by MOJO Social. In January, we launched a call for applications for socially committed organisations offering €25,000. Two months after the release, more than 62 candidates applied to participate in the MOJO Social 2022 edition.
Although aligned with MOJO Agency's values, our jury selected a single winner: the Citizen Platform – BelRefugees – Burgerplatform.
Founded in 2015, this non-profit organisation is working for a more open and inclusive society towards people in migration situations. It provides, within its means, an unconditional welcome, accommodation, information, training and assistance to exiles, migrants, asylum seekers, newcomers and undocumented migrants, in full respect of the person and his choices. The cause for which BelRefugees is dedicated has particularly touched us and we wanted to contribute to it.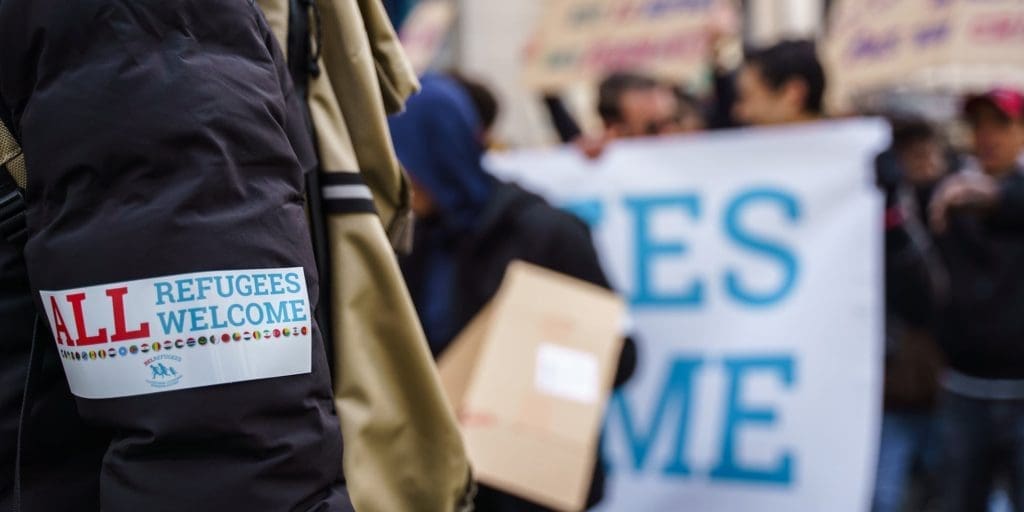 Challenge
Embodying hope, solidarity and dynamism to raise awareness
The challenge was twofold: collect donations to aid refugees and create a dynamic campaign reflecting BelRefugees' actions.
BelRefugees is largely financed by public subsidies, making their financing model vulnerable. In order to strengthen it, our first objective was to mobilise citizens and private companies.
Regarding the second challenge, we aimed to shift from an emotional approach to highlighting BelRefugees' tangible impact in the field. Thus, through this campaign, we highlighted hope, solidarity and dynamism embodied by the Citizen Platform.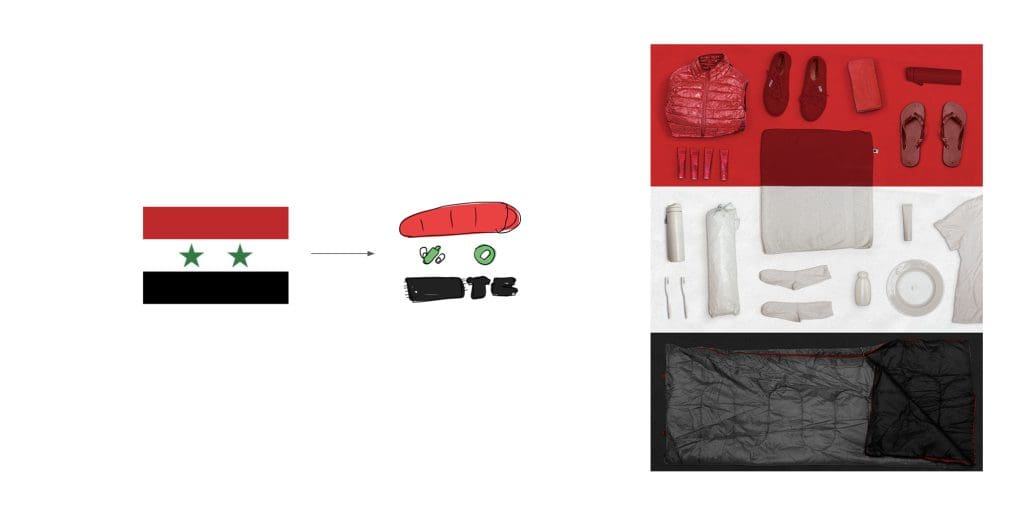 Approach & methodology
The symbolism of the flag to help BelRefugees deliver a strong message
To carry out our mission, we started with a briefing phase with our art director. This step allowed us to define and validate the concept of this campaign. After exploring several creative concepts and agreeing with the BelRefugees team, we chose the concept we called "Vital Flag" for the following reasons:
– The use of flags allowed us to focus our campaign on three countries generally known to the public in terms of immigration: Sudan, Ethiopia and Ukraine. Nevertheless, despite the emphasis on these three flags, this campaign takes into account all origins, no exclusion is allowed.
– Finally, these flags are made of objects that refer to the first survival kit given by the platform to the refugees who arrive on Belgian territory, such as warm clothes, shoes, a sleeping bag, a hygiene kit, etc.
To bring all these ideas to life, our design team embraced the creative concept to create a strong visual while including the existing identity of the platform.
This campaign has a strong message and we want everyone in Belgium to be able to understand and assimilate it. This is why we have produced our concepts in three languages: French, Dutch and English, and why we have developed a version of these posters with inclusive language, so that we do not discriminate against any gender.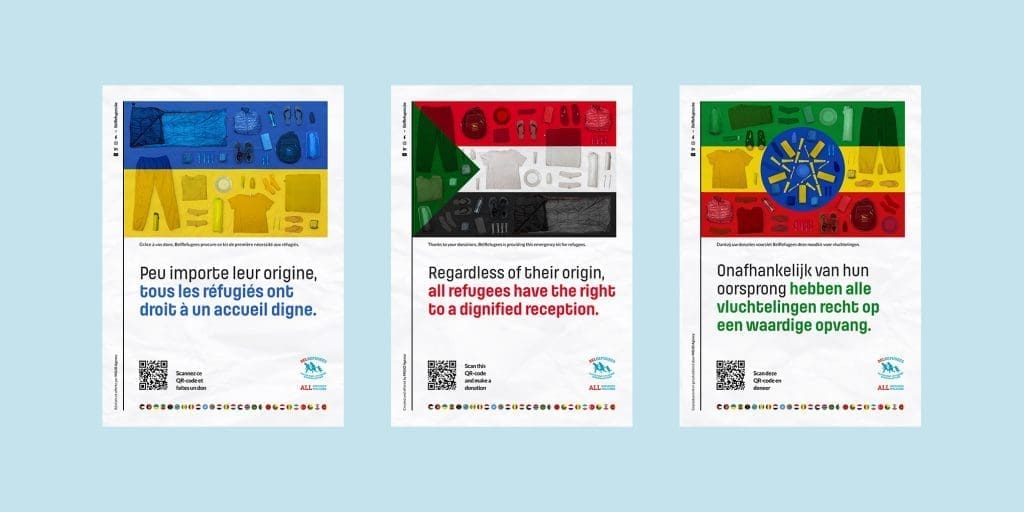 Our work
Widely distributed for greater impact
Once the visuals were validated, it was time to publish them. Three communication channels were used to increase the visibility of this campaign: social media, posters and the press.
Our team has produced three posters for urban distribution that perfectly illustrate this concept of "Vital Flag". We chose to include the slogan "regardless of their origin, all refugees have the right to a dignified reception" in order to remind us of what the platform is fighting for, namely a better inclusion of people in migration situations. The second sentence "Thanks to your donations, BelRefugees is providing this basic kit to the refugees", reminds us about the utility of these donations by mentioning the emergency kit, essential for their survival. In order to convert interested parties into donors, we have set up a simple process: a scannable QR code that links directly to the BelRefugees donation platform.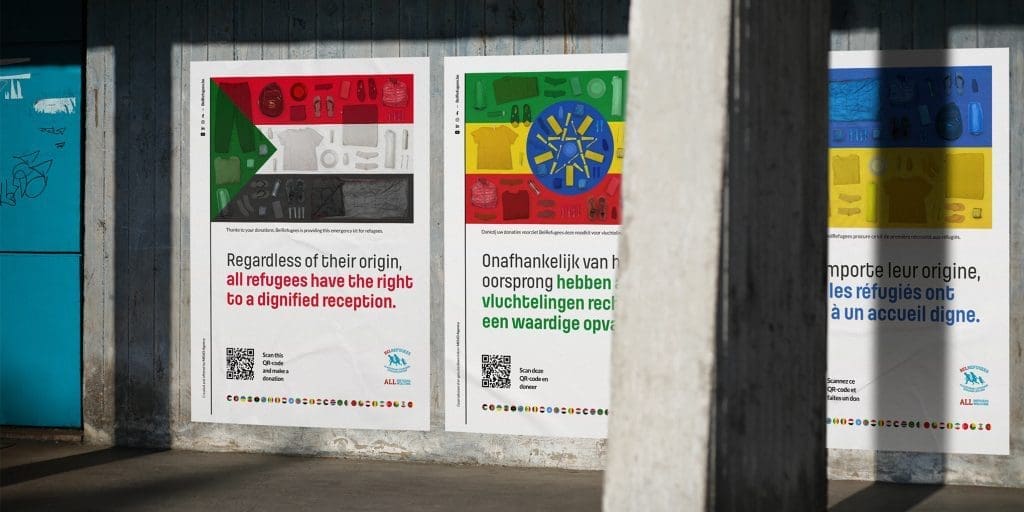 The campaign was also published on the different social networks of the platform: Facebook, Instagram, Youtube and LinkedIn. To ensure a real harmonisation and logic between the different posts, we adapted the visuals for social media posts according to the technical specificities of each platform and integrated them in a content calendar. This way, we wanted to draw the attention of selected audiences, here the Belgian population, to the online donation campaign.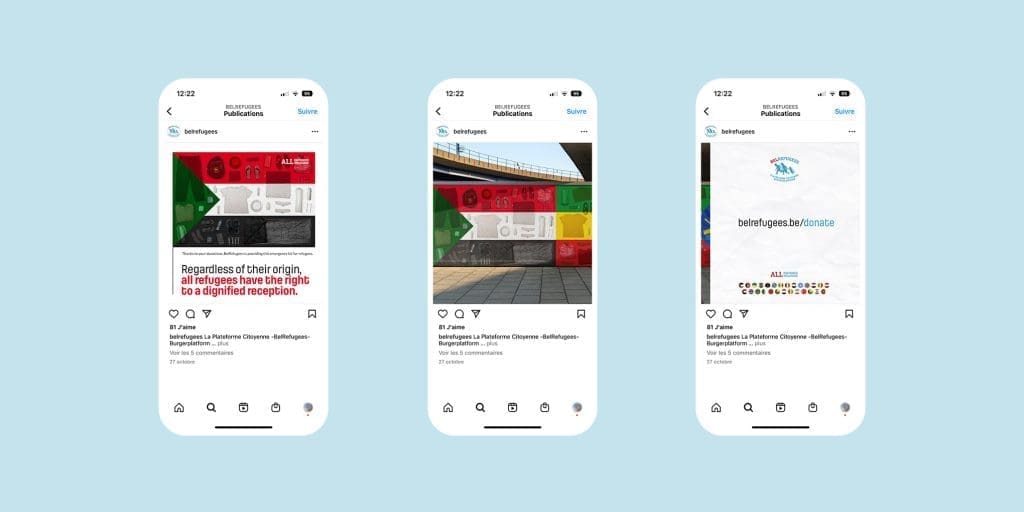 BelRefugees social network to relay the video
Social networks were ideal to broadcast the video made by our team for this campaign. Tour et Taxis generously provided us with a 2000 square meter space, facilitating the realization of this video. Tom Fox, an American composer, also offered us the broadcasting rights for the musical work introduced in the video. Our team was mobilised to shoot, edit and finalise this video. We also thank the Dardennes brothers' Cinéma Palace for supporting us in this project by agreeing to broadcast our awareness video freely to widen our audience.
We also chose to contact the press to extend the audience. Our PR experts took care of writing a press release highlighting the intolerable conditions in which refugees live on Belgian territory, but also the mission of BelRefugees and the launch of this campaign. This press release was sent to a list of journalists considered influential in the city of Brussels and in Belgium, working for 24 Belgian French and Dutch speaking media.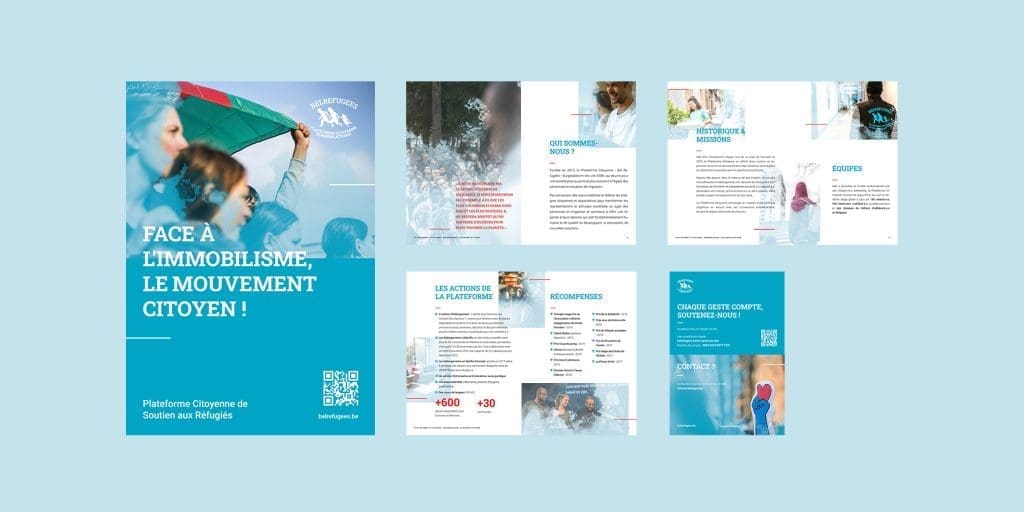 In parallel to the creation of this campaign, BelRefugees asked us to create a commercial brochure for the Citizen Platform. This represents an efficient way to showcase the platform and leave a visual mark on prospects, donors, or investors. We have designed it in the most clear and modern way.