Context
More than 250 000 children disappear each year in Europe
Every 2 minutes, a child is reported missing in Europe. The causes and consequences of these disappearances include situations of violence and abuse, including sexual exploitation. Missing Children Europe (MCE) is the European Federation for Missing and Sexually Exploited Children, whose mission is to protect children from any form of violence, abuse or neglect caused by or resulting in their disappearance. Missing Children Europe works in coordination with a network of 31 organizations in 26 European countries, as well as child protection agencies, local authorities and other stakeholders at the European level to ensure that these children are found safe and sound, and develops cross-border solutions to better prevent and respond to missing children.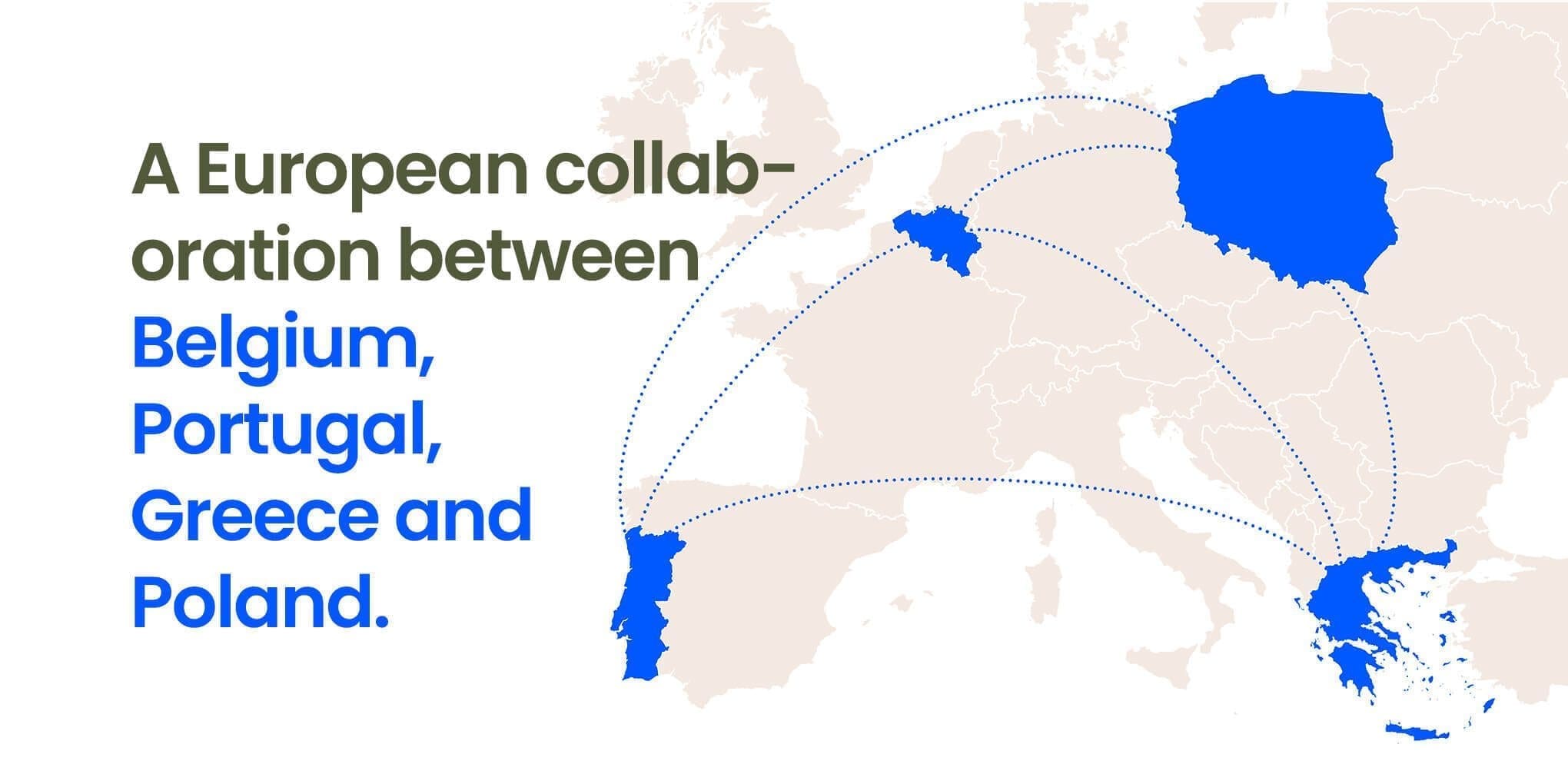 Challenge
Promoting a 4-week online course for professionals in 4 European territories
The RADAR (Running Away: Drivers, Awareness, and Responses) project is a European runaway project coordinated by Missing Children Europe. Led by European partners, the project aims to make real progress in raising awareness, understanding and supporting children who run away, with the aim of providing better protection and care for them across the EU.
We were asked by Missing Children Europe to imagine and design a global communication campaign in four countries (Greece, Portugal, Belgium, Poland) dedicated to professionals (law enforcement officials, social workers, teachers, educators, hotline and helpline operators and other professionals). The goal? To invite professionals to participate in online courses to learn how to better detect the signs in certain situations.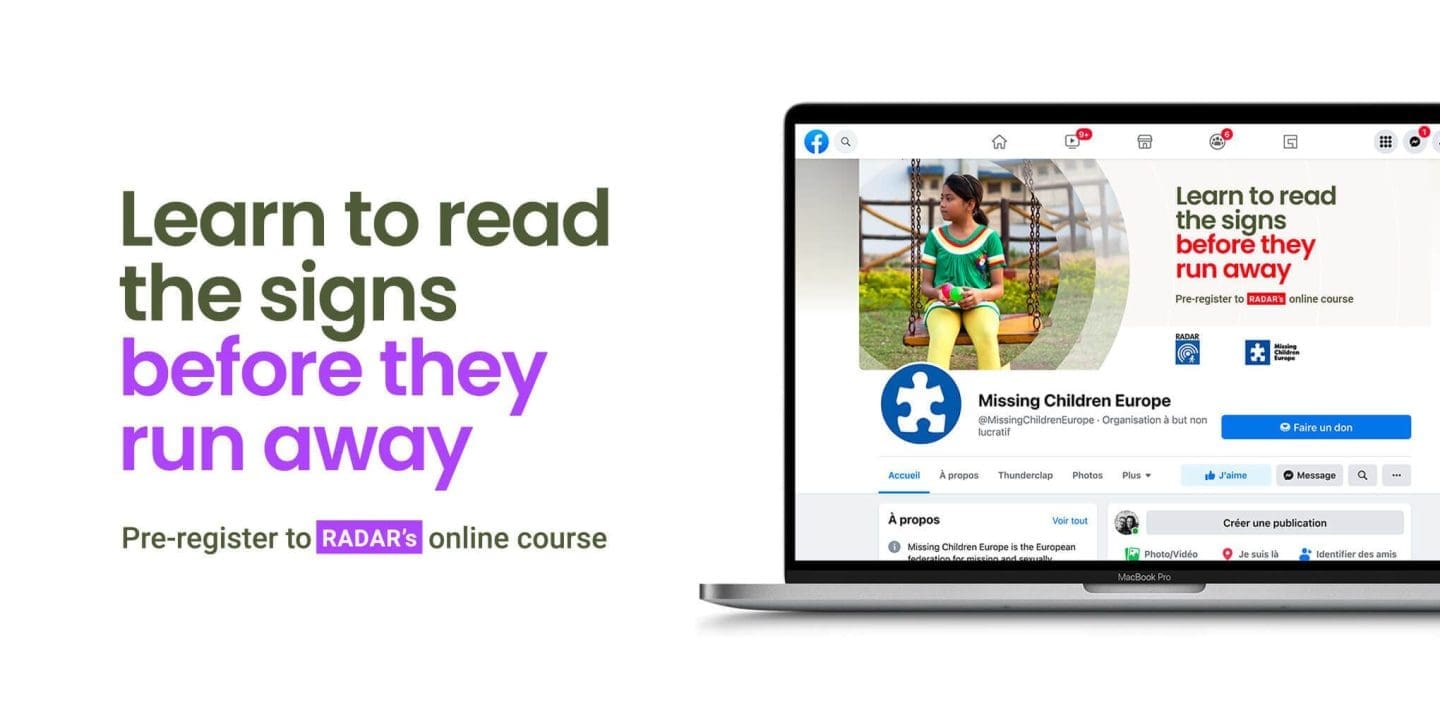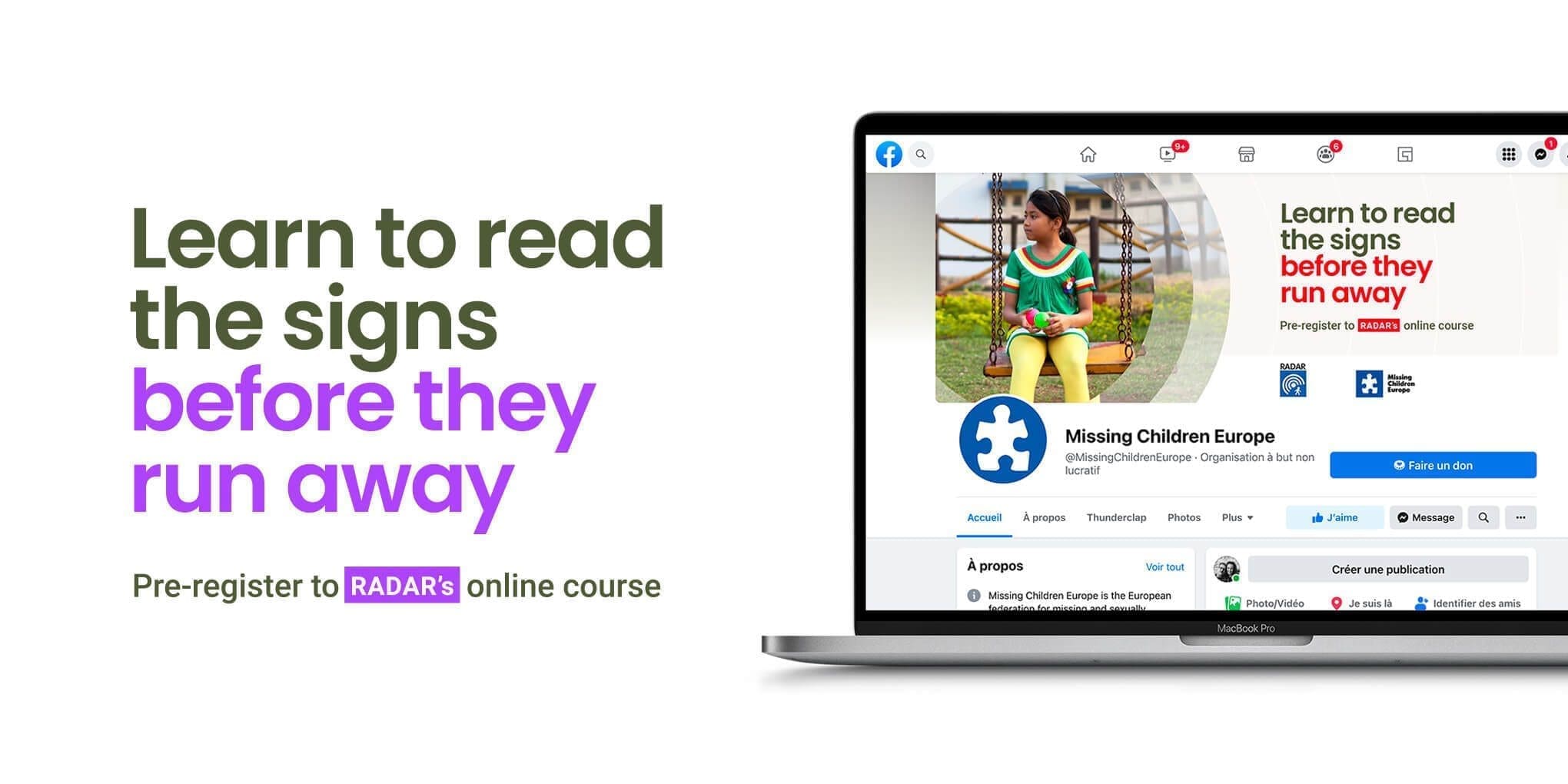 Approach & methodology
Finding a child is a learning process.
We imagined a global communication campaign adaptable to the different contexts of the participating countries (Greece, Portugal, Belgium, Poland). To do this, a series of exchanges with the local teams of each partner organization (Child Focus Belgium Fundacja ITAKA – Centrum Poszukiwań Ludzi Zaginionych Child Helpline International IAC – Instituto de Apoio à Criança) was implemented.
Articulated around the idea that every situation can be read twice, the campaign highlights the importance of the role of professionals in the field. "There are always two ways to read a situation. Develop the skills to read the signs."
What we've done
A global campaign with local adaptability.
The campaign was designed around a global concept declined on a set of supports: static and animated visuals for social networks, profile banners, campaign application and diffusion through guidelines and toolkit as well as the production of a campaign video.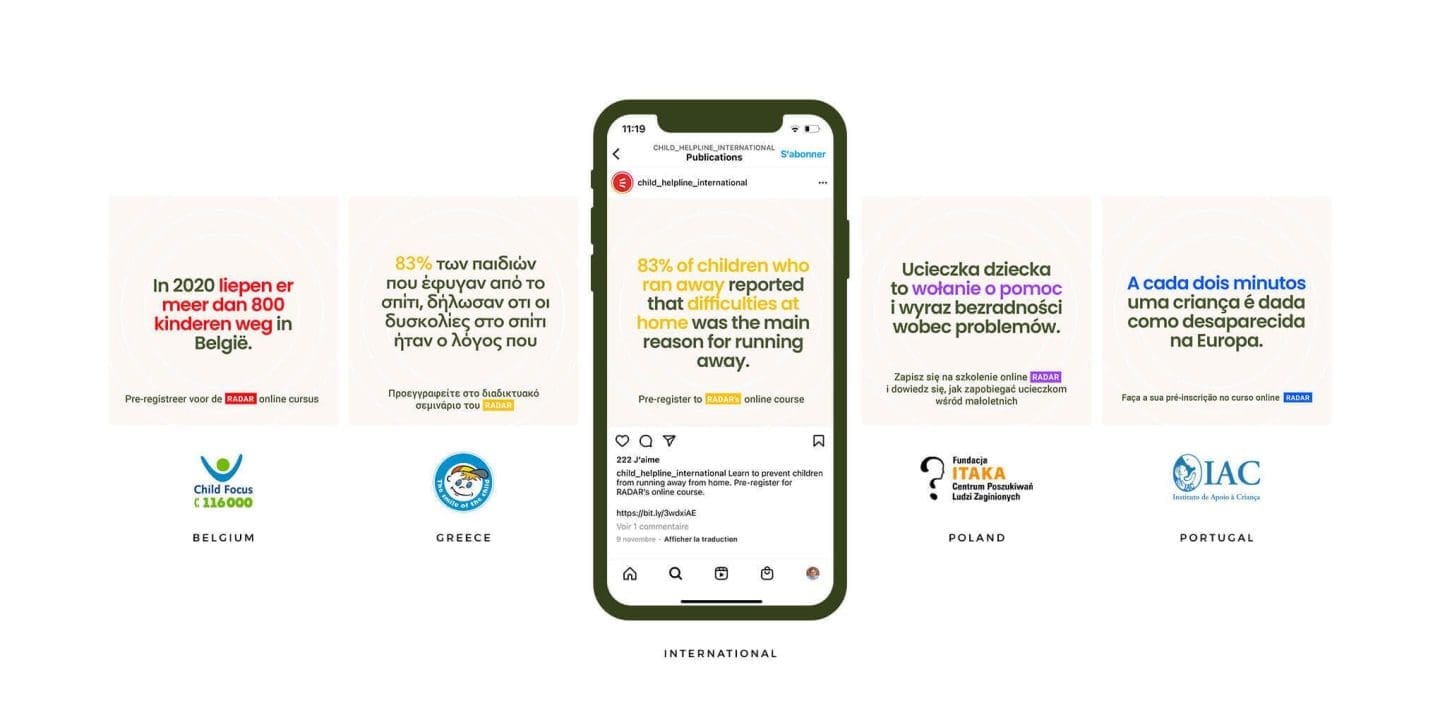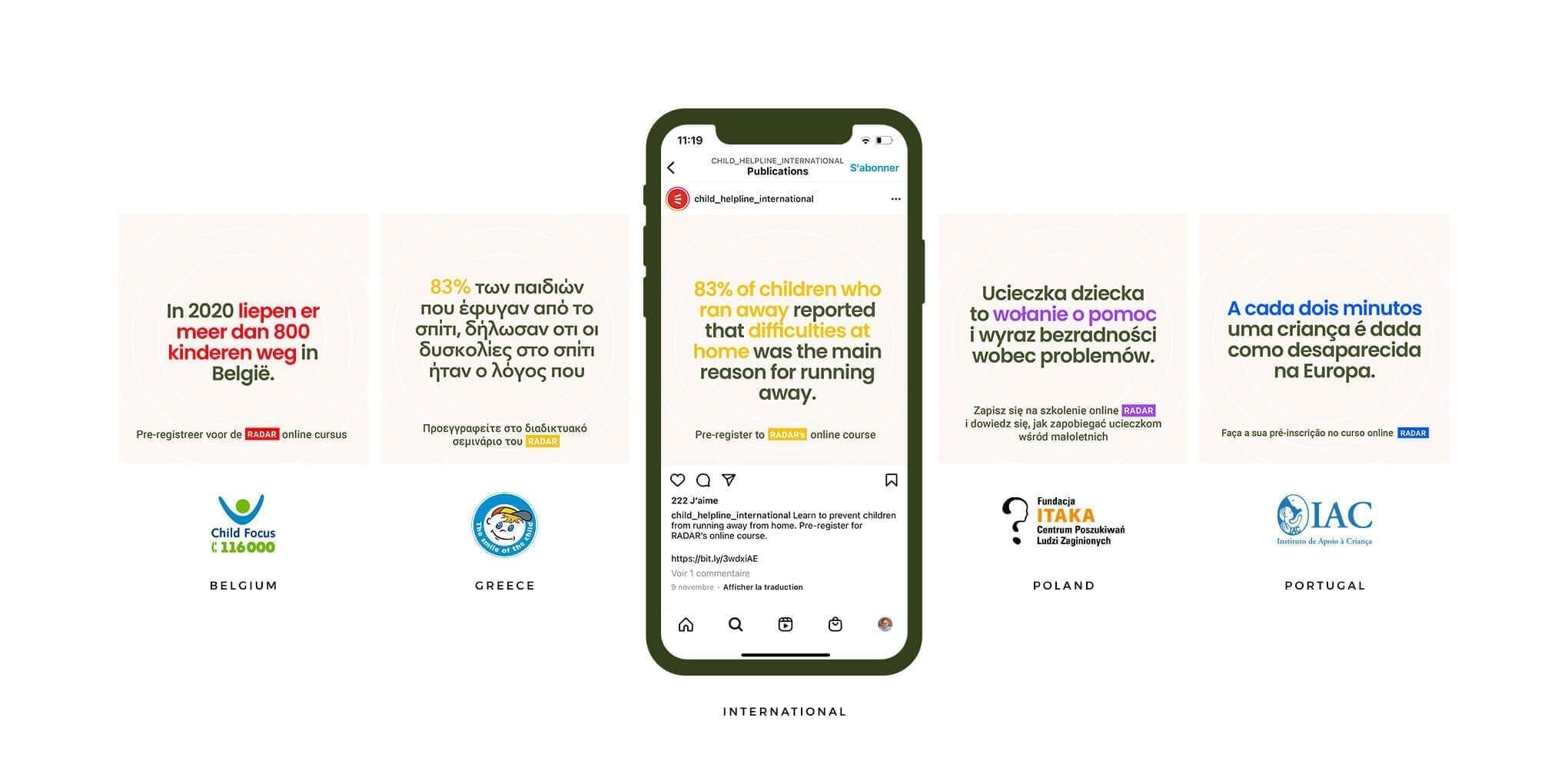 Client's Feedback
« We thoroughly enjoyed working with the entire team of MOJO Agency. The campaign generated the attraction we required to meet our objectives. We highly recommend them for any organisation looking for a creative agency who are adaptable and dedicated to going above and beyond for their clients. »