Before creating your project, our strategy team can give you a fresh perspective and help you sharpen your brand platform.
GO TO:
---
Auditing
How does your organization define itself (mission, vision, values…)? What is your product/service? What is your market? Who are your competitors? What is your added-value? What resources do you have (staff, budget, technology…)? Who are your target audiences? What are your short, medium, and long-term objectives?
Before designing a project, we take the time to listen and analyze your ecosystem, understand your objectives, and identify your strengths and weaknesses, as well as the opportunities and threats imposed by the market. Our expert brand strategy team takes stock in order to answer the key questions that will guide our strategic and tactical choices for your communication needs.
Identifying true insight
To get your audiences to engage, you first have to know who they are! Tapping into their deep set motivations, putting yourself in their shoes, and highlighting insights — these tiny glimmer of truth that speaks to us all and will shed a new light on the issue at hand. To be relevant, an insight must ring true and strike at the heart of what drives your users to do what they do. It creates a genuine user identity. It reflects a latent desire. Studying and analyzing insights help to accurately target the proposed solution, foster connection with your communities, and promote your brand image.
Uncover what makes you, you.
Based on these elements, we work together to define the essence of your organization — its value system, story, personality, positioning, competitive advantage, and its promise — to build a solid brand platform. As the true foundation for your overall strategy, this step provides the structure to guide our reflection, set you apart from the competition, and ensure consistency across all your communications. As the fruit of a collective vision, the brand platform will formalize a strong brand identity capable of generating interest and trust.
---
Our strategy experts:
Camille
Co-Founder and CEO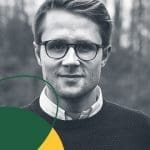 Chris
Digital Media Specialist