Boosting your visibility, informing your audiences, amplifying your message...our integrated studio gives you the keys to a full-bodied communication to unite your teams and mobilize your audiences!
GO TO:
---
An unparalleled visual universe
Before starting production, we will identify a creative concept aligned with your brand platform. Whether its visuals for social media, campaign flyers, annual reports, or packaging…our creative team will help you imagine powerful concepts that reflect and enhance your brand identity. 
Our services : editing; layouts for catalogs, flyers, magazines, reports; visuals for social media, flyers, packaging, signage, infographics, icons, data visualization, illustration. Too many options? We will help you choose the right products to meet your needs. 
Sometimes an image says more than a long speech
Audiovisual content is a powerful vector for rallying your audiences around your project. Regardless of the medium, our team of experts is at your side to give your ambitions the impact they deserve.
Our services: story boarding, scriptwriting, preproduction, filming/shooting, editing, post-production, livestreaming, green key/studio, video, photo, motion design, 3D, sound design.
Your actions are remarkable. Spread the word!
Having a solid visual approach is good, and with a strong message it's even better! MOJO develops authentic and compelling messages that carry your story and establish emotional bonds with your community. 
Our services: content writing, editorial line, editorial charter, storytelling, publication planning, blog, newsletter, community management, press release, media relations.
Websites and mobile applications
User-centered digital experiences
At MOJO, we blend creativity and technology to develop digital experiences that fit your needs and those of your target audiences. Whether it's a redesign or starting from scratch, any web project starts with defining your site's architecture and organizing its content based on a user-centered approach. We use a functional model, or wireframe, to visualize text areas, placement of images, videos, links, as well as various graphic elements. This step makes for easier navigation and optimize the user experience. Once approved, it's time to develop! Our team of developers master a multitude of content management systems, such as WordPress, Drupal, Joomla, IAPPS, Typo3 or Meteor, to design an attractive, intuitive, and responsive graphic web interface that showcases the elements of your site throughout the digital journey, regardless of the medium. Once online, your site is then tested, monitored, and optimized so that everything runs smoothly! MOJO also designs web and mobile applications to help extend your digital identity.
Our services: content mapping,  user experience (UX), wireframing UX/ functional models, zoning, user interface (UI), web development (website, e-commerce site), web and mobile applications.
---
Our studio experts: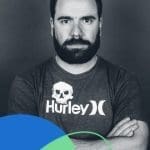 Nicolas
Full-Stack Developer