Introduction
A project at the heart of innovation, creativity, and digital cultures
Kingkong mag is a project led by the non-profit organisation kikk founded in 2011 in Namur. This non-profit organisation is a pioneer in the digital and innovation sector. They organise events, support the production of artistic works and participate in the emergence of new projects. It includes the kikk festival, a major international event of digital cultures in its sector. Kingkong mag is also a media inspired by art, culture, digital and innovation. It promotes enthusiastic and creative writing. 
Kingkong mag covers various topics like art, science, innovation, technology, culture and society. When the kikk organisation wanted a new, creative and innovative breath of life into its media, they called upon MOJO Agency's services. 
Challenge
Raising awareness about digital energy consumption among readers
Our mission? Create a new version of kingkong mag's website in order to raise awareness about the energy consumption of digital technology. Our mission started from the following observation: according to a study published in the Patterns magazine, digital technology represents between 2.1% and 3.9% of global emissions, thus impacting the environment.
The first challenge was to break the codes: propose an unexpected and innovative approach in order to be up to the creative and technical standards of the kikk, a European reference in the digital creation sector.
As a second step, we revised the visual identity of kingkong mag so that it embodies more the purpose of this media, digitally and technologically, but by respecting a well established identity.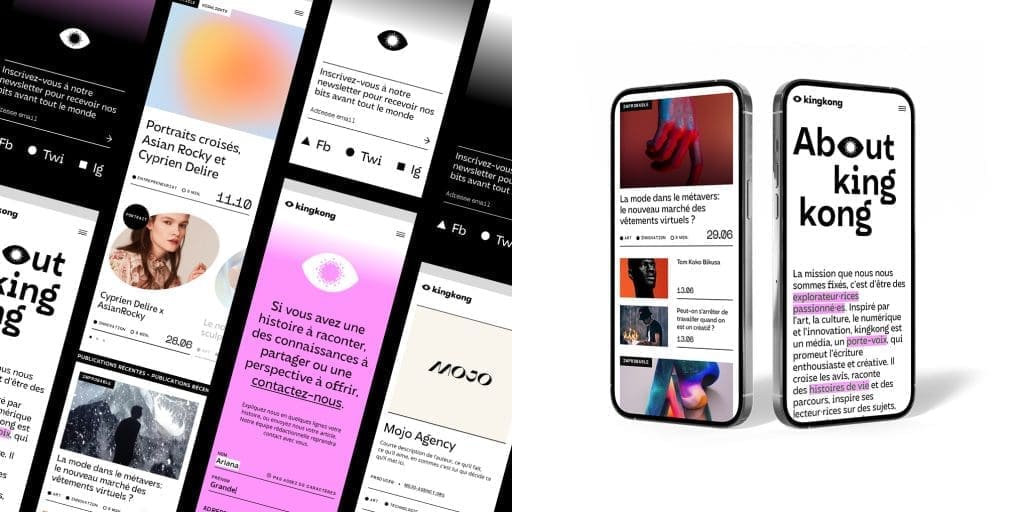 Approach & methodology
A 100% creative and 100% committed approach
The organisation kikk was also interested in our web development services in order to raise awareness and educate visitors about digital energy consumption. They wanted to show, through a concrete case, that there were alternatives. We decided to create a low carbon version of kingkong mag's website. From now on, when browsing their website, you can find a "low-carbon" button in the menu. This feature allows you to switch from a classic website to a low-carbon version.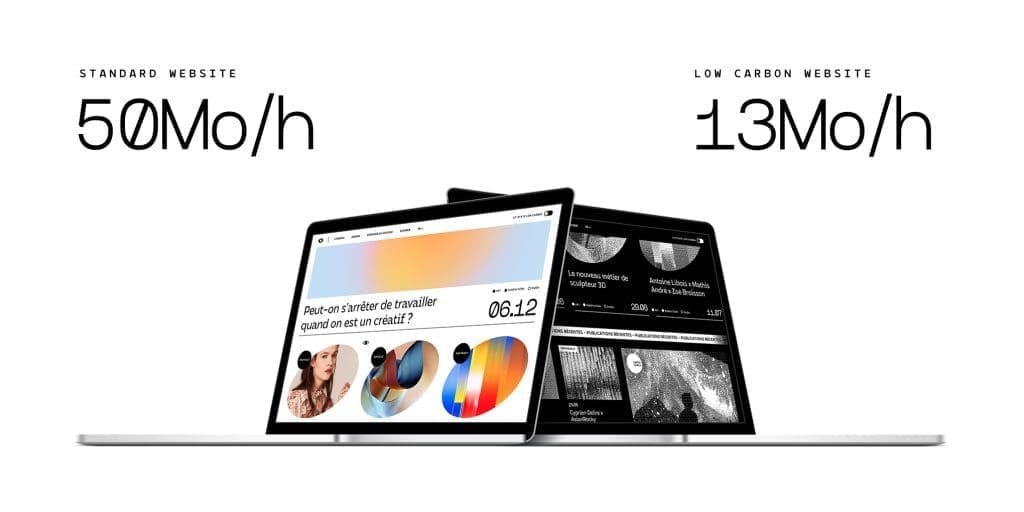 The "low-carbon" version proposes to discover the website with an optimised code and data allowing several functionalities: a low resolution treatment of the images, heavy videos and podcasts hidden but accessible via a redirection link, and a switch of the luminous mode to a dark mode using only black and white to improve the autonomy of the device in use.
This switch of the reading environment in low-carbon is innovative, allowing to visualise concretely the thematic of digital pollution and thus, to sensitise and inform visitors about this problem.
Concerning the pages of the website, we decided to opt for a content-first approach, putting more articles, podcasts and videos on the landing page to give a clear overview of the content that kingkong mag publishes.
We also invited kingkong mag to host their website on a committed server and to be involved in the "Net Zero Website" project, a platform that allows to compensate for the released website emissions by planting trees around the world. Currently, 751 trees have been planted to offset kingkong mag's emissions.
What we've done
Embodying digital with a new brand identity
Our team worked on the identity of kingkong mag, allowing visitors to see at a glance the digital topics addressed by this media. To do this, we created a "vintage" digital approach by giving the logo a pixelated effect. This logo, represented by an eye, symbolises the openness and the multidisciplinary approach of the website and its subjects.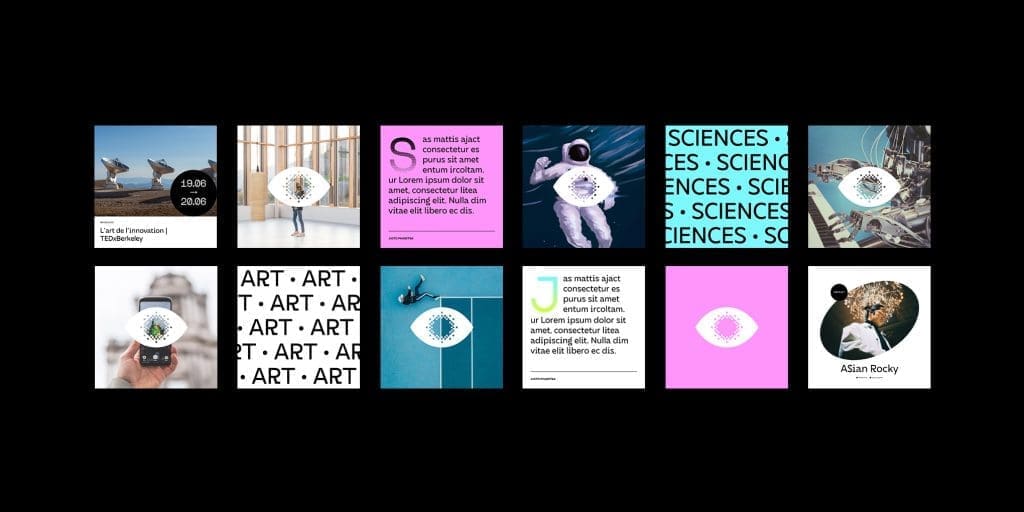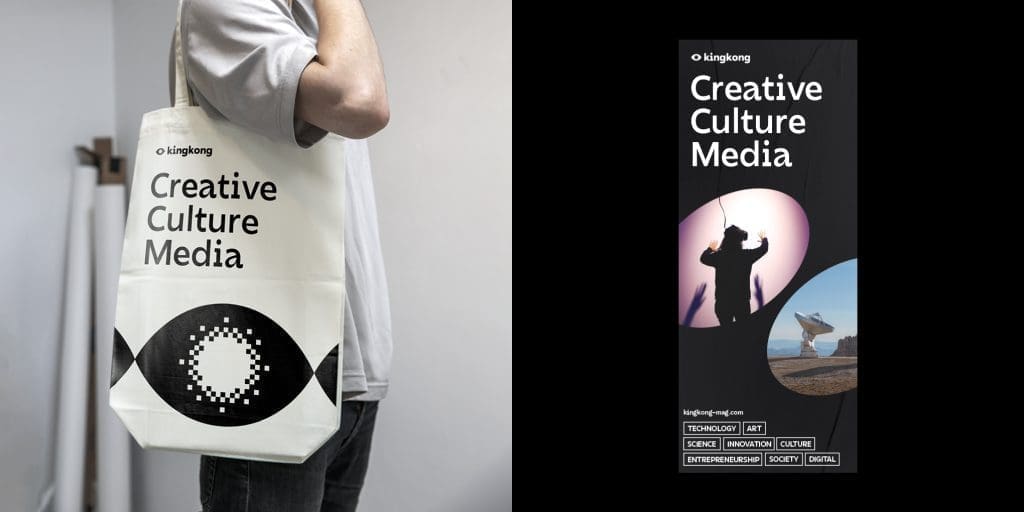 Our team was also responsible for activating the website's low carbon mode. This switch from one mode to a low mode required our experts to study the energy impact of every element of the website to reduce them as much as possible.
The "low-carbon" switch is accompanied by a special feature on the cursor: when reading an article, the visitor can see his cursor indicating the percentage of reading done.
Finally, to accentuate the interactivity of the website, the mouse cursor is illustrated by this pixelated eye that blinks when the visitor does not move his mouse for a certain time.